Winning the ball in midfield is really important for high pressing teams. You want to win the ball back as soon as possible and suffocate the opponent. For that kind of tactic in FM, it is good to have ball winning midfielder in the centre. This is an interesting role. It demands specific traits, and attributes. Let's find out more about it together.
FM other midfielder centre roles:
FM ball winning midfielder explanation:
Playing in central midfield the ball winning midfielder's main function is to close down the opposition and win the ball.
However, he also needs the technical skills to help the team keep possession and fashion out of chances for players with attacking roles.
With a defend duty, the ball-winning midfielder looks to win the ball in the centre of the midfield and quickly lay it off to a more creative player.
With a support duty the ball winning midfielder aims to win the ball back high up the pitch and support resulting counter attacking opportunities.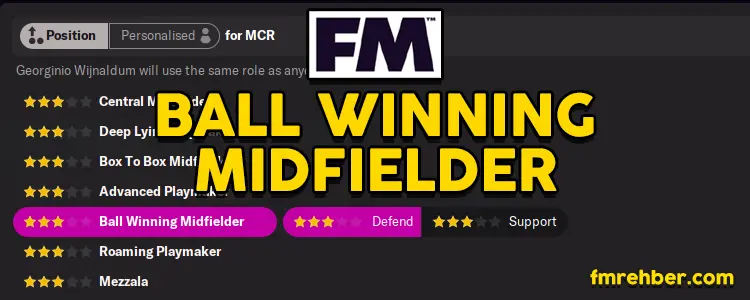 Ball winning midfielder is not different than a stopper. However, they are positioned in midfield instead of defence. Therefore a good ball winning midfielder must have really high tackling, marking, aggression, anticipation, bravery, concentration, positioning, and stamina. Also pace and agility for catching fast explosive opponent attackers.
In defend duty passing is not important. But support duty requires some passing attribute. Especially for starting counter attacks after winning the ball.
FM ball winning midfielder preferred traits:
Dives into tackles. ***
Plays short simple passes. (Defend duty.)
Stays back at all times.
Refrains from taking long shots.
Best FM22 Ball Winning Midfielders
Here is the top 10 list of best ball winning midfielders of FM22 including wonderkids.
N'Golo Kante: Without a doubt, N'Golo Kante is the best ball winning midfielder of FM22.
Rodri: Manchester City's star player who can play in both midfielder and defensive midfielder positions.
Declan Rice: 22 years old star player of West Ham. He is of the greatest player of FM.
Marcelo Brozovic: 28 years old Croatian superstar of Inter. 20 stamina, and 20 natural fitness? His physique is legendary…
Yves Bissouma: 31 years old Senegalese tireless defensive midfielder of PSG.
Jude Bellingham: 18 years old star player of Dortmund. Even though he is only 18, Jude Bellingham is easily one of the best midfielders of the world.
Eduardo Camavinga: One of the best midfielder wonderkids of FM22.
Aster Vranckx: Wolfsburg's 18 years old hard working midfielder.
Carney Chukwuemeka: Half Nigerian, half English 17 years wonderkid player of Aston Villa.
Gavi: You already know him as the future superstar of Barcelona. Only 16 years old.