FM roaming playmaker role review, guide, and player trait recommendations. This is an interesting midfielder / defensive midfielder role. So, I have explained everything you need to know about it on this article. Including the list of best FM22 roaming playmaker players.
Rest of the center midfielder roles in FM:
Review of FM roaming playmaker role:
The roaming playmaker is the heartbeat of his team, driving forward with the ball to spearhead attacks as well as tracking back to cover defensively. Always offering a passing option to teammates, the roaming playmaker must have the physical attributes to maintain a high intensity as well as the technical attributes to stamp his authority on the game.
He will look to pick the ball up in deep positions and work the ball forwards with urgency, all the while keeping up with play. The roaming playmaker will often camp on the edge of the penalty area looking for room to shoot or to try that killer ball which creates a goalscoring opportunity.
The roaming playmaker is only available with a support duty.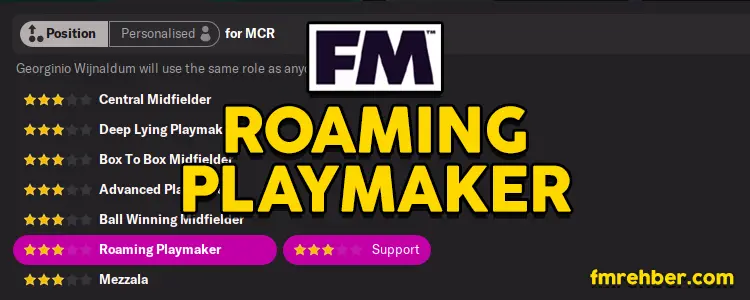 Roaming playmaker is actually a box to box midfielder with playmaker features. High on passing and vision attributes.
Since it is an physically demanding role, better make sure your older roaming playmakers have good natural fitness attribute. Because it is the only thing that can prevent physical decay at older ages.
Best roaming playmaker traits:
Tries killer balls often.
Moves into channels.
Dictates tempo.
Refrains from taking long shots. (If long shot attribute is low, which is almost always the case.)
Tries long range passes.
Knocks ball past opponent.
Best Roaming Playmakers FM22
Top tier good roaming playmakers to transfer in FM22. Half of the players on this list are star players, whereas the other half are wonderkids.
Remo Freuler: Atalanta's Swiss player who can play in both midfielder and defensive midfielder positions.
Renato Augusto: 33 years old experienced midfielder from Corinthians.
Roberto Gagliardini: Star midfielder player of Inter.
Eljif Elmas: 21 years old Macedonian hard working midfielder of Napoli. Also the key play for his National Team.
Dominik Szoboszlai: Hungarian wonderkid from older series is now 20 years old and playing for RB Leipzig.
Illaix Moriba: 18 years old Guinean super star wonderkid of RB Leipzig. However, currently playing for Valencia on loan.
Yunus Musah: Valencia's 18 years old American wonderkid.
Hannibal: Manchester United's perfectionist 18 years old Tunisian wonderkid.
Fabricio Diaz: 18 years old Uruguayan wonderkid from Uruguay club Liverpool F. C. expected to be the new Bentancur.
Jordan James: 17 years old Welsh promising star from the EFL Championship club Birmingham.