FM anchor. Most defensive role of defensive midfielder position is anchor in FM without a doubt. If you value defense as much as offense, anchor is a highly valuable role. So, anything and everything you need to know about anchors can be found below. Besides I have listed the best / wonderkid anchor players to sign in FM22.
Rest of the FM defensive midfielder roles:
FM anchor role explanation:
Sometimes referred to as the water carrier, the anchor's main duty is to sit in the hole between the defence and midfield, intercepting moves, winning the ball and laying off simple passes to more creative teammates.
Since the key job is to anchor the defence, the anchor doesn't venture too far from their position either to close down the opposition or to support the more advanced players.
The anchor is only available with a defend duty.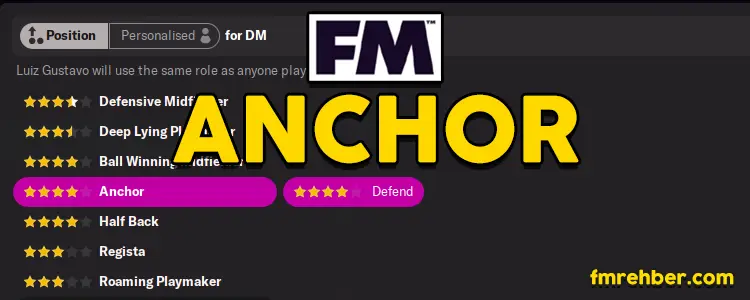 Main job of anchor role is ball winning. They sit in front of defenders and try to win ball from opponent players. Therefore a good anchor must have really high tackling, marking, anticipation, positioning, concentration, and decisions. As well as enough strength to win one on ones.
FM22 anchor player traits:
Plays short simple passes.
Marks opponent tightly.
Stays back at all times.
Dives into tackles.
FM Anchor Transfers
Best of the best anchor players in the world can be found below. Also you will be able to see the best wonderkids to develop as anchors in FM 2022.
FM22 Best Anchors
Wilfred Ndidi: Leicester's Nigerian super star with super physique.
Fabinho: Elite versatile player from Liverpool.
Casemiro: Real Madrid's Brazilian star, again, with great physique and mental.
Allan: Another Brazilian super star, but this time from Evertpm
Rodrigo Bentancur: My favorite player from FM 20, 21, and 22.
John Obi Mikel: Legendary anchor player Obi Mikel is now 34 years old and free agent.
FM 22 Anchor Wonderkids
Eduardo Camavinga: French wonderkid of Real Madrid.
Tanguy Nianzou: Another determined, physically strong French wonderkid. But this time from Bundesliga, Bayern Munich.
Devyne Rensch: Super versatile promising youngster from Ajax U18 academy.
Marco Kana: 18 years old Belgian defensive midfielder.
Nico: Can play any role in midfield positions.