Hello and welcome to my top FM22 three defenders tactics tier list. On this page you will find the best FM 22 343 and 352 formation tactics for success.
As you already know, three defender tactics are highly popular in modern football. Most coaches are slowly integrating this to their teams. Because it is much more successful than classic old tactics. Of course Football Manager series is also affected by it.
I have listed three best 3 defender tactics below. Thousands of tactics are tested by AI and looks like these three are the best 3-4-3 and 3-5-2 tactics.
Let's get started:
1.
ABC 3-4-2-1 Tactic
ABC tactic is using 3-4-2-1 formation. But you can call it 3-4-3 as well. Simply because the wingers on this tactic are inside forwards.
My personal favorite winger role too is inside forward. That is why I like this tac the most.
2.
Fantastic Mezzalas
As you can see in the tactics name, Fantastic Mezzalas is focused on mezzala role. It is a 3-5-2 tactic which uses two mezzalas on the middle. It is weird but working exceptionally well.
Like the other two tactics on this page, Fantastic Mezzalas tactic also uses positive mentality. I guess it is the best choice for modern football.
FANTASTIC MEZZALAS 3-5-2 DOWNLOAD
3.
ZaZ – Yellow 3.0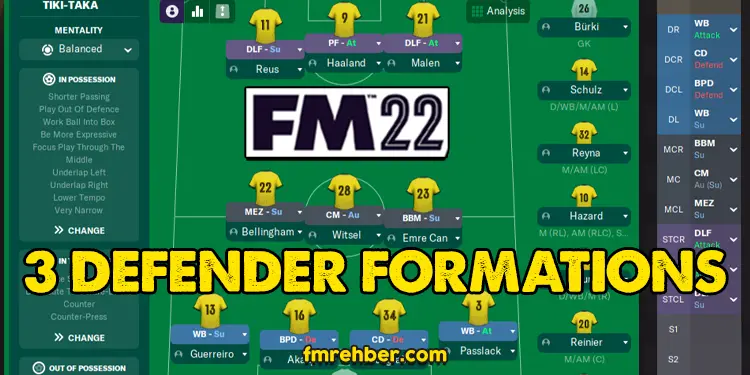 My top 3 defender tactics list are ending with ZaZ – Yellow. I am not sure if you already know this, but the ZaZ – Blue tactic is the best one yet in FM 22. Looks like ZaZ is a great tactician. He created a three defender tactic too for those who are interested.
ZaZ – Yellow is a 3-4-3 tactic, pretty successful one too. So, what are you waiting for? Grab it with and lead your team to championship.
You already how to install and import FM tactics. Simply download the tactics and unpack them. Then paste tactic files to the tactics folder in documents. That would be all. Now you can run the game and import the installed tactics from tactic screen.
Season is long and challenging. Therefore I recommend you to get at least two different tactics. You might want to have a plan B in case things got out of your hand.
---
Thank you for checking out my top three FM 22 343 and 352 tactics on this page. Don't forget to read my other articles / guides too.
FM 22 TRANSFER RECOMMENDATIONS
I did my part, now it is your turn. You can leave a nice comment below and join our discord channel for supporting this web-site. Till later!