Today I will review and leave a short guide for classic FM defender role, central defender. Look, modern football prefers ball playing defenders. However, there aren't many ball player defenders in the football at this age. Most defenders are specialized in the classic central defender role. So, it is still important to discuss.
Other FM defender roles:
The definition of central defender role in FM 22:
The main job of the central defender is to stop the opposing attackers from playing and to clear the ball from danger when required.
However, especially for more aggressive tactics, he must also possess the composure to be able to help the team maintain possession and lay off simple passes to more creative players.
With a defend duty, the central defender will stay in line with his defensive partner and look to break up attacks, mark opposing forwards and prevent the ball from getting into the box.
With a stopper duty, the central defender will push ahead of the defensive line and close down players before they get to the area.
And finally with a cover duty, the central defender will drop a little deeper and sweep up through balls behind the defensive line.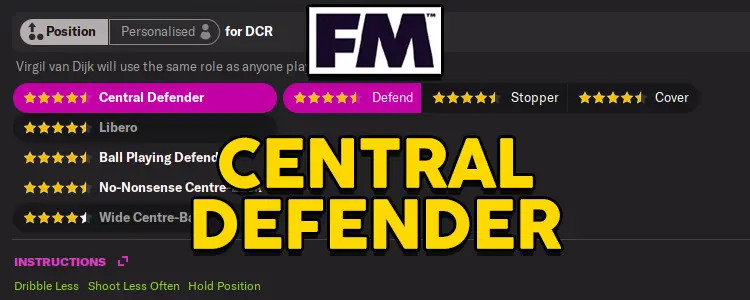 Central defender does not need to have good vision or passing skill. He must pass the ball to the closest team member with passing ability. Preferably to ball playing defender, libero, or defensive midfielder.
Here is something important. Let's say you have 2 defenders in your tactic. One of them must be tall and good with heading. Whereas other one must be short and really fast. Because we want to defend against different attack organizations.
Most important central defender skills are heading, marking, tackling, strength, and jumping.
Preferred player traits for central defender:
Marks opponent tightly.
Dives into tackles.
FM 22 Best Central Defender Players
I have managed to find the most skilled central defenders in FM 22. Both wonderkid and word class center defenders are listed below. Enjoy.
FM22 Best Central Defenders
Ruben Dias: 24 years old but probably the worlds best central defender.
Giorgio Chiellini: Living legend. I still remember him pulling Saka.
Antonio Rüdiger: Superb physique.
Kurt Zouma: 20 strength, beast.
Kalidou Koulibaly: Another great defender from Italy.
FM22 Central Defender Wonderkids
Odilon Kossounou: Born central defender, super talent.
William Saliba: Huge potential.
Wesley Fofana: Next superstar.
Tanguy Nianzou: Bayern's wonderkid.
Renan: Brazilian talent.