This is an interesting one. No nonsense centre back role in FM is anti-modern football. No-nonsense centre-backs does not play with ball at all. They don't have to be good with ball, passing or running. Their sole purpose is defending.
Rest of the FM defender roles:
Here is the FM no nonsense centre back definition:
The main job of the no nonsense centre back is to stop the opposing attackers from playing and to clear the ball from danger when required.
The aim is to win the ball and get it cleared safely up field in a simple and efficient manner, taking few risks with the ball.
With a defend duty, the no nonsense centre back will stay in line with his defensive partner and look to break up attacks, mark opposing forwards and prevent the ball from getting into the box.
With a stopper duty, the no nonsense center back will push ahead of the defensive line and close down players before they get to the area.
Finally, with a cover duty, the no-nonsense centre-back will drop a little lower and sweep up through balls behind the defensive line.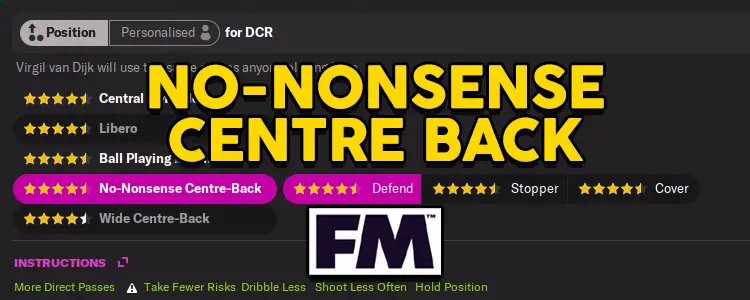 No-nonsense centre back players never leaves the defence, under any circumstances. As opposed to other defenders, they don't need to be good at passing, composure, technique, or decisions.
I don't recommend you to train your youngsters to become a no-nonsense centre backs. It is really old role and not viable in modern football. Still, if you have old players or young players with limited potential, you can assign them to this role.
Preferred traits:
Stays back at all times.
Plays short simple passes.
Runs with ball rarely.
FM 22 No-Nonsense Centre-Back Recommendations
Both world class and wonderkid no-nonsese center-back players in FM 22 can be found below.
FM22 Best No Nonsense Centre Backs
Make sure you have enough transfer budged before approaching these top players. Best no nonsense centre back players in the world are listed below:
Merih Demiral
Luiz Felipe
José Luis Palomino
Daniele Rugani
Koray Günter
FM22 No Nonsense Centre Back Wonderkids
Young promising no nonsense centre backs. I still call them wonderkids but a big club should sign ball playing defenders instead of no nonsense centre backs. So, these guys aren't going to be a world class players. However, a mid-small club can benefit from these promising defenders.
Botond Balogh
Bruno Amione
Lorenzo Moretti
Mattia Motolese
Cathal Heffernan