What is a libero? I shall answer that! Everything you need to know about the FM libero role can be found on this article. I like to review FM player roles and todays topic is libero.
Other FM defender roles:
Now is the time for FM libero definition:
The libero drops behind the defensive line, aiming to sweep up through balls, pick up extra attackers and make goal saving tackles, blocks and interceptions.
His exceptional athleticism and reading of the game enable him to cover for defensive errors, take possession of loose balls from a deep position and secure possession. However, he will also roam forwards in support of the midfield when the team has possession.
With a support duty, the libero will step into the midfield when possession is secured and look to play balls through to attacking teammates.
With an attack duty, the libero ventures much higher up the pitch to provide a goal scoring threat from distance alongside looking to play in teammates.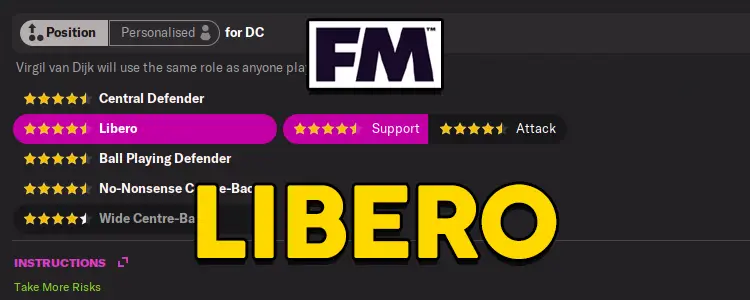 Libero role is usually used when there is no anchor player. So, if you are using a libero, that means your defenders are bad at passing. As you already know classic defending roles are in decline whereas the ball playing defender is thriving. What to do when you don't have any ball playing defender? Of course you will use libero. Libero must also be athletic and good at dribbling.
Best traits for libero players:
Brings ball out of defence.
Dictates tempo.
Dives into tackles.
Tries to play way out of trouble.
FM 22 Libero Recommendations
The only true libero I could find in FM 2022 is James Abankwah. But unfortunately he is on loan from Udinese to St. Pat's Athletic. It is a club from the Irish league.
There aren't any libero players other than him. However, you can train younger players to become a libero. Still, I wouldn't recommend you to do that because best stoper role in FM is ball playing defender.
So, a libero must have really strong physique combined with defending abilities. Mentally the teamwork, vision, and positioning is highly important. These qualities combined are hard to come by. That is why instead of transferring, I recommend you to train one from youth. If it is absolutely necessary for your tactic of course.