Welcome to my FM 22 corner tactics page, also as known as FM22 corner routines. If you are unhappy with the number of corner goals of your team, try this routine. Your teams corner goals will skyrocket. Of course I am assuming you have the right players for this tactic.
FM 22 BEST TACTIC < Top tactic for most points.
Recommended players for FM corner goals:
Left foot corner taker with

+14

corners.
Right foot corner taker also with

+14

corners.
Scorers or defenders with both heading and jumping reach abilities above +14.
FM22 Best Corner Tactic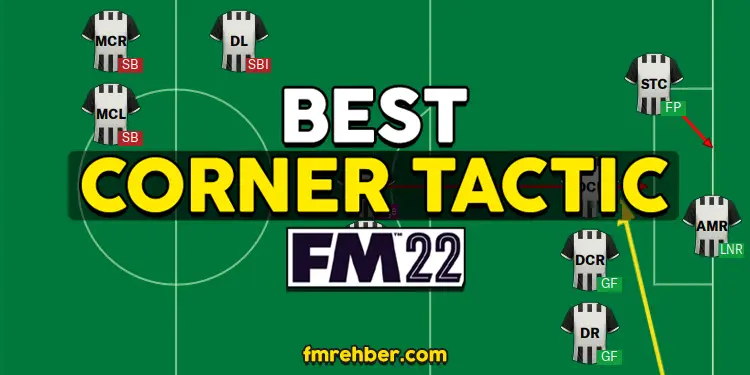 FM 22 defend and attack corner tactics for left and right locations are included in a single file. Also player instructions are pre-made in this tactic. All in one. There you go.
Best FM22 corner tactic for you to enjoy:
Simply copy and paste the FM22 corner routine you downloaded to the set pieces folder. Here is the path for that:
C: \ Users \ [Your User Name] \ Documents \ Sports Interactive \ Football Manager 2022 \ set pieces
Then run the game. Go to your tactics and corner set pieces. Finally, click on the routine and load the organization you just downloaded. Simple as that. Oh, and don't forget to assign your set piece takers.
What is next? Nothing really. Basically it is time to enjoy plenty of corner goals.
---
Thank you for visiting. I also recommend you to check out my FM 22 set pieces article. Of course if corner tactics are the only thing you want, you needn't check.
Well, I did my best. Now it's your turn. Make sure to leave a nice comment and join our discord channel. See you soon, take care.