Segundo Volante is a defensive midfielder role in Football Manager series. As well as real-life football. So, I want to explain, review, suggest traits, and share the best players on this role. I hope you enjoy my FM segundo volante article. Football is constantly evolving like any aspect of the life and learning never ends.
Other FM defensive midfielder roles:
Segundo volante definition in FM:
The Segundo Volante is different from the deep lying playmaker in that their role is primarily a defensive one best suited to being paired with an anchor, and is also different from the ball-winning midfielder, in that they often run with the ball, or arrive with a late run, into the opposition area in much the same way a box-to-box central midfielder does.
With a support duty, the Segundo Volante will look to support the attack whilst picking and choosing his opportunities to arrive late in the opposition's penalty area.
With an attack duty, the Segundo Volante will get further forward and frequently look to arrive late in the opposition's penalty area as well as attempting more shots on goal.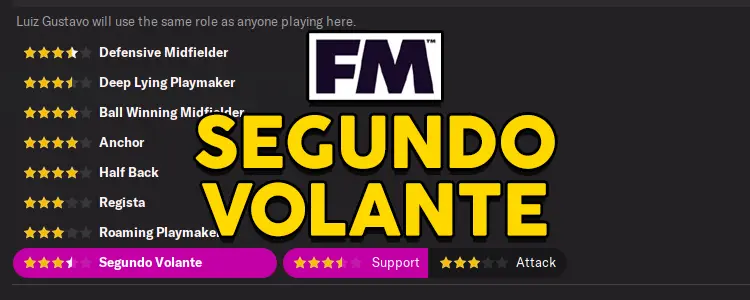 This is a highly demanding role. So, a segundo volante must have at least 135 ability power which is huge. The most important attributes on this role are pace, stamina, tackling, passing, work rate, and positioning.
Since it is a role best suited with anchor, segundo volante mostly used in defensive tactics with two defensive midfielders. Therefore I don't recommend you to use this role with a big club needs to win all the time.
FM22 best Segundo Volante traits:
Dives into tackles.
Comes deep to get ball.
Marks opponent tightly.
Arrives late in opponents' area.
FM 22 Segundo Volante Players
Best wonderkids and world class players to assign Segundo Volante role in FM 2022.
FM22 Best Segundo Volantes
Federico Valverde: 2 years of Uruguayan Real Madrid player who can play in both midfielder and defensive midfielder positions. He also have superb physique and speed.
Adrien Rabiot: Again a physically strong versatile player. He can play in many positions such as midfielder, defensive midfielder, and left winger.
André-Franck Zambo Anguissa: 25 years old Cameroonian tireless defensive midfielder.
Bryan Cristante: 26 years old model citizen player from Roma.
Nemanja Maksimovic: 5th best Segundo Volante in FM is Getafe's Serbian player Nemanja Maksimovic.
FM22 Segundo Volante Wonderkids
Nico: My favorite midfielder / defensive midfielder wonderkid in FM 22, because he is cheap and talented.
Eduardo Camavinga: One of the midfielder wonderkids with ultra high potentials.
Marco Kana: 18 years old Belgian promising star.
Fabricio Diaz: Another 18 years old wonderkid who can bought for a ridiculously low price.
Maxim Mukhin: 19 years old aggressive defensive midfielder.