Welcome to the FM 22 ZAZ blue tactic download page. Without a doubt, FM 22 best tactic is ZaZ Blue. After series of testing made by FM arena bots, ZaZ Blue made it to rank 1 among thousands of other tactics.
Have you heard of the FM Arena? It is a website that tests the tactics with bots and ranks them. Anyone can upload their tactic to join the contests.
At the moment, ZaZ Blue is the number one FM 22 tactic. Bots played 24 seasons with it like other tactics. In the end, ZaZ Blue managed to gather the most points among its competitors.
It works with both big and small clubs. However, you better start signing players who are compatible with the roles assigned in the tactic. For the optimal results, young players with high physical attributes are recommended.
FM22 ZaZ Blue Download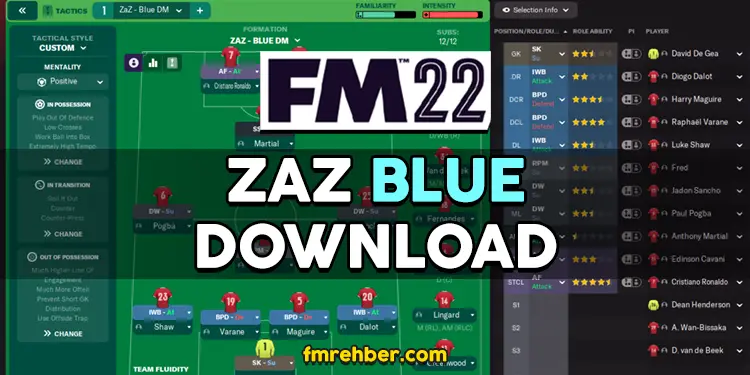 Are you ready to start winning your matches? There are two versions of the ZaZ Blue. Let's go.
Main; DM Asymmetric Zaz Blue.
4-2-3-1 formation with the positive mentality will wreak havoc on your opponents. Download FM 22 ZaZ Blue:
Alternative; Double Tweaked variant.
This one is the alternative version of the best FM22 tactic. Overall they are almost indentical. Except there are some slight differences. For example this one requires two strikers unlike the main ZaZ Blue tactic. If you have two great strikers on your squad, use this one.
FM 22 tactic installation guide:
Download your favorite tactic.
Copy and paste the tactic file here:
Documents / Sports Interactive / Football Manager 2022 / tactics
Run the game.
Open the tactic screen.
Load tactic.
Done and done! FM22 ZaZ Blue is successfully installed. Now is the time to collect points and trophies.
---
Thank you for visiting FM rehber. I hope you enjoyed my article.
It is your turn now. Leave a comment below and join our discord channel if you can. I would highly appreciate your help. Take care now, bye bye.