Welcome to my FM striker / forward player role guides. Pressing forward role in FM 2022 explained on this page. It is just another support role of striker centre position.
What are some examples? I can think of Benzema and Immobile. They are both physically strong and creating goal opportunities for other scorers in their teams.
Other striker roles in FM:
FM pressing forward role guide:
The pressing forward is becoming more and more important in the modern game.
His main duty is to put pressure on the opposition when they have possession, closing them down and chasing any loose balls in order to prevent the opposing players having too much time on the ball. The point at which he will press is dependent on the team's overall line of engagement.
With a defend duty, the pressing forward will generally look to bring others into the game than create his own chances.
In support duty, the pressing forward will generally take more risks when looking to bring team mates into the game.
With an attack duty, the pressing forward will generally look to score himself in the same way a more advanced forward would.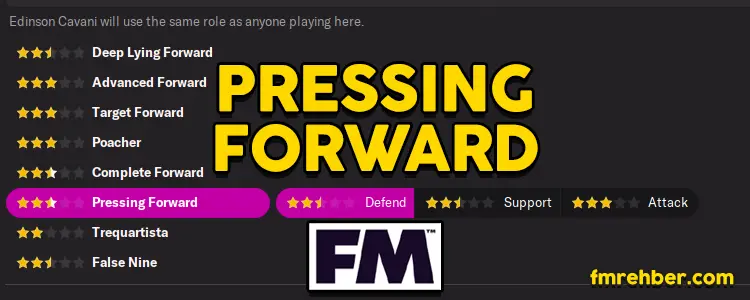 This role is also physically demanding like complete forward. Except, pressing forwards doesn't have to be good headers. So, you can cross off the jumping and heading attributes.
Also, they can't be used as the main scorer. You must have other strikers or scorer wingers. Because pressing forward have other duties. Such as pressing, diversion, making assists, etc. Basically, it is a support role. Even with attacking duty.
Pressing forward best player traits FM:
Moves into channels.
Knocks ball past opponent.
Gets forward whenever possible.
Likes to try to beat offside trap.
Cuts inside.
FM22 Best Pressing Forward Players
Good pressing forwards of FM22 top 10 list.
Lautaro Martinez: 23 – Argentinian – Inter.
Ciro Immobile: 31 – Italian – Lazio.
Jamie Vardy: 34 – English – Leicester.
Dominic Calvert-Lewin: 24 – English – Everton.
Darwin Nunez: 22 – Uruguayan – Benfica.
Vinicius Junior: 21 – Brazilian – R. Madrid.
Tiago Tomas: 19 – Portuguese – Stuttgart.
Marcos Leonardo: 18 – Brazilian – San.
Joe Gelhardt: 19 – English – Leeds.
Kaio Jorge: 19 – Brazilian – Juventus.