Hello and welcome to my FM deep lying forward role review. It is a supporting role in the forward area. Its duty is to hold the ball and send killer balls to score assists.
Benzema is probably the best player in this role. So, I will be sharing a shortlist of other good deep lying forwards below. Let's go.
Rest of the FM striker roles:
FM deep lying forward definition:
The deep lying forward's main function is to link the attack to the midfield.
He aims to drop deep into space and hold up the ball before supplying linking passes to teammates, moving the ball back to midfield support, spreading it wide to the flanks and, if he has time to turn, playing in his strike partner.
With a support duty, the deep-lying forward will largely aim to bring teammates into play before attacking the box from deep.
With an attack duty, the deep lying forward will look to fashion chances for himself in addition to playing others in.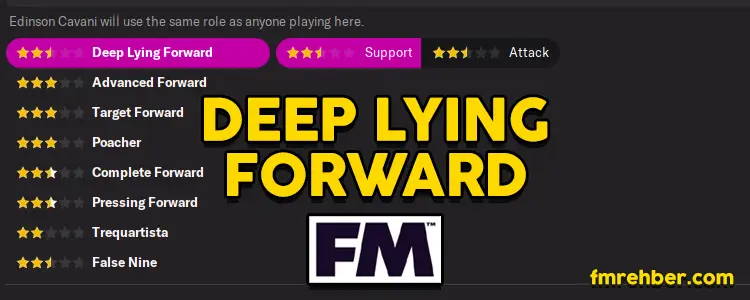 These guys must have some strength and balance to hold the ball until a passing opportunity appears. Also, some passing, vision, and teamwork to pass the ball of course.
Since deep lying forward is not a good finisher, better make sure your tactic has other players to score goals. Like other strikers, inside forwards, or shadow strikers. Because it is a support role.
Best player traits deep lying forward role in FM:
Plays with back to goal.
Moves into channels.
Tries killer balls often.
Plays one-twos.
Looks for pass rather than score. (For players with low finishing.)
FM 22 Deep Lying Forwards
Deep lying forward shortlist for those who want to make some FM22 transfers to this role.
Karim Benzema: 33 – French – R. Madrid.
Harry Kane: 27 – English – Tottenham.
Mohamed Salah: 29 – Egyptian – Liverpool.
Roberto Firmino: 29 – Brazilian – Liverpool.
Paulo Dybala: 27 – Argentinian – Juventus.
Ferran Torres: 21 – Spanish – Barcelona.
Julian Alvarez: 21 – Argentinian – River.
Lassina Traore: 20 – Burkinabe – Shakhtar.
Sebastiano Esposito: 19 – Italian – Basel.
Janis Antiste: 22 – French – Spezia.