FM advanced forward role explained. Advanced forwards are both maestros and the finishers of attacking organizations. However, this role is highly demanding. First of all, advanced forwards must be fast and good dribblers. Otherwise, it's just not going to work. Finishing and passing also equally important obviously.
Rest of the striker roles in FM:
FM advanced forward guide:
The advanced forward's main role is to lead the line and look to spearhead attacking moves.
His primary duty is to be the focal point of attacking moves and he is required to both score and create goals.
His secondary role is to chase down misplaced through balls or clearances from deep, win possession and lay off passes or crosses to his teammates.
The advanced forward is only available with an attack duty.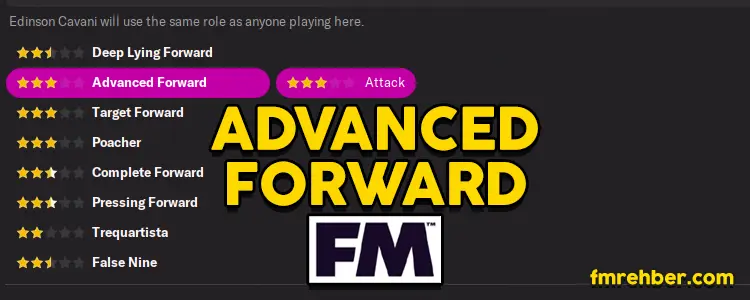 It is a demanding role that requires both scorer and winger attributes. Slow players cannot handle this role. Also, I wouldn't depend on an older player because their physical attributes diminish quickly.
What are the best scorer attributes? Finishing, composure, and off the ball. Since advanced forward is a forward, these attributes are also critical.
Preferred player traits of advanced forward in FM:
Runs with ball often.
Cuts inside.
Moves into channels.
Knocks ball past opponent.
Tries killer balls often.
FM 22 Best Advanced Forwards
Top class advanced forward players of FM22. Here is the top 10 shortlist.
Kylian Mbappe: I ranked him number one but the first three are equally good.
Erling Haaland: Norwegian superstar.
Mohamed Salah: He is the best winger and striker of the world.
Karim Benzema: Winner of 2022 player awards.
Victor Osimhen: 22 years old young superstar of Napoli.
Ansu Fati: Super young wonderkid of Barcelona.
Joe Gelhardt: 19 years old strikers from Leeds.
Kaio Jorge: Brazilian wonderkid of Juventus.
Fabio Silva: Portuguese wonderkid of Wolves.
Alejo Veliz: Cheapest option. 17 years old Argentinian promising striker.