Let's discuss the FM poacher role. Well, poachers are players who can smell the goal. Cristiano Ronaldo is the best example of this. He was the best poacher in his prime. But age gets to everyone right? Even Ronaldo can't escape entropy.
Other FM striker roles:
FM poacher explained:
The poacher sits on the shoulder of the last defender looking to break the defensive line and run onto through balls from midfield.
Although the poacher is always ready to run at his marker and is happy to cross the ball when required, his main aim is trying to put the ball in the back of the net.
His focus on scoring goals is so extreme that he rarely offers much help in constructing moves, preferring instead to remain central and sniff out opportunities in and around the box.
The poacher is only available with an attack duty.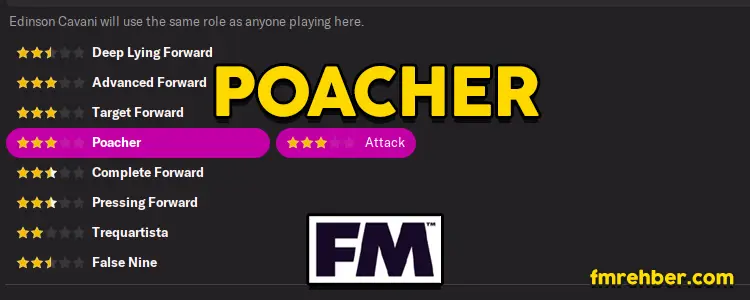 Poacher is an interesting role. It only requires 4 attributes. These are finishing, anticipation, off the ball, and composure. Other attributes only slightly affect performance.
Of course, poacher can't score goals alone. Playmakers and others must send killer balls to him. Because he just appears at the right time and in the right moment to score.
FM poacher role traits:
Moves into channels.
Plays one-twos.
Shoots with power.
Tries first time shots.
Best FM22 Poacher List
FM22 best poacher players including two wonderkids.
Kylian Mbappe: 22, French, Paris SG.
Robert Lewandowski: 32, Polish, FC Bayern.
Romelu Lukaku: 28, Belgian, Chelsea.
Erling Haaland: 20, Norwegian, Borussia Dortmund.
Cristiano Ronaldo: 36, Portuguese, Man Utd.
Iago Aspas: 33, Spanish, Vigo.
Joao Felix: 21, Portuguese, A. Madrid.
Dusan Vlahovic: 21, Serbian, Juventus.
Vinicius Junior: 21, Brazilian, R. Madrid.
Ansu Fati: 18, Spanish, Barcelona.
Marcos Leonardo: 18, Brazilian, SAN.