Today's topic on our FM role reviews is complete forward. It is perhaps the most demanding role in FM. So, better make sure your complete forward have high current ability / potential ability.
Complete forward player must have physique of a beast. It's time to hit the gym, I guess. First player I can think of is Lukaku. He fits this role perfectly.
FM other striker roles:
FM complete forward guide:
A complete forward possesses all the technical attributes of a deep lying forward, the goal scoring ability of a poacher and the strength and power of a target forward.
Equally adept at playing in others, fashioning chances and getting on the end of team moves, such a player transcends tactical instructions and should simply be allowed to do their own thing.
With a support duty, the complete forward will look to drop into space, run at the defence, take long shots, drive to the flanks or play balls through the defensive line.
With an attack duty the complete forward will lead the line, spearheading attacks and crafting out chances for himself and others.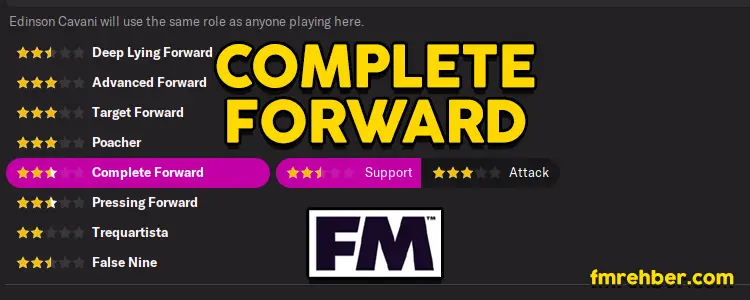 I mean, it is a role that only star players can handle. A player with limited or mediocre ability can never fulfill the requirements of a complete forward.
It is hard to find players focused on all aspects of football. I mean technical, mental, and physical. But if you have one, better take advantage of him.
FM complete forward player traits:
Tries first time shots.
Shoots with power.
Places shots.
Plays one-twos.
Moves into channels.
Best FM22 Complete Forwards
5 wonderkid and 5 top class complete forward player to transfer in FM 22.
Robert Lewandowski: Not only the best complete forward, but also the best scorer of FM22.
Erling Haaland: 20 years old wonderkid. Still, one of the best scorers of the world.
Karim Benzema: 2022 winner of European Cup and UEFA Champions League top scorers award.
Romelu Lukaku: A stallion of a player.
Dusan Vlahovic: 21 years old Serbian beast.
Adam Hlozek: My favorite striker wonderkid of FM22.
Armando Broja: Another striker from Balkans. 19 years old Albanian striker.
Fabio Silva: 18 years old youngster of Wolves. Portuguese of course.
Pietro Pellegri: Torino's 20 years old striker, currently on loan from AS Monaco.
Lassina Traore: 20 years old Burkinabe tank striker of Shakhtar. Related to Bertrand Traore.