Welcome to the role review of FM false nine, also as known as F9. You can learn more about false nine role on this page, including preferred traits, best players, etc.
False 9 is started to be used in the Guardiola's Barcelona. Without a doubt, Messi is the best F9 player in football.
Other striker roles:
FM false nine definition:
The false nine, in some ways, similar to a more advanced attacking midfielder/playmaker role, is an unconventional lone striker or centre-forward who drops deep into midfield. The purpose of this is that it creates a problem for opposing central defenders who can either follow him – leaving space behind them for onrushing midfielders, forwards or wingers to exploit – or leave him to have time and space to dribble or pick out a pass.
False nine is only available with a support duty.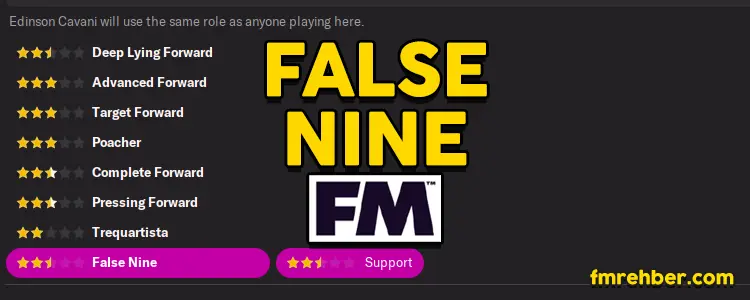 Main purpose of the false nine is to trick the opponent defenders. In order to do that, a false nine must have great off the ball, acceleration, agility, and balance attributes.
Since it is a support role, other attackers in the field must be real scorers. If every player is a playmaker in a team, who will score?
False nine FM player traits:
Tries killer balls often.
Moves into channels.
Plays one-twos.
Knocks ball past opponent.
Plays with back to goal. (Situational, depends on your tactic.)
FM22 Best False Nines
Best players on the FM 22 false nine role. Let's start with the world's best player, Messi.
Messi: You can't find any other false nine better than him.
Mbappe: Once Messi retires, he will be the best false nine of the worlds.
Salah: Amazing at every striker role.
Gabriel Jesus: Great striker and right-wing player of Man City.
Lautaro Martinez: 23 years old professional striker of Inter.
Emre Mor: 21 years old Turkish winger who can play also as false nine.
Ansu Fati: Everyone knows him. Barça's youngster.
Gabriel Martinelli: Arsenal's promising star. 20 years old.
Myron Boadu: 20 years old Dutch striker of AS Monaco.
Eddie Salcedo: 19 years old perfectionist striker, currently on loan from Inter.