Thomas Müller has invented the raumdeuter role. It is fairly new term and today we will review it. FM raumdeuter role can only be assigned to the left / right attacking wingers. It has only attack duty and really useful tool for attacking organizations.
However, raumdeuter players does not contribute to defending. Therefore, you should be ready to defend with 10 players against your opponents.
FM other winger roles:
FM raumdeuter role review:
The raumdeuter literally translated from German means "space investigator". His main role is to find pockets of space in which to operate. Essentially a wide poacher, the Raumdeuter takes up seemingly harmless positions out wide, waiting for opportune moment to burst through the defensive line for that telling shot or cross.
He is difficult for defenders to pick up as he will often drift from his assigned position looking for any opportunity to exploit. This can result in quiet periods during which the raumdeuter may neglect his defensive duties, therefore adequate cover and a strong team shape are key in order to fully utilise his attacking prowess in the final third.
The raumdeuter is only available with an attack duty.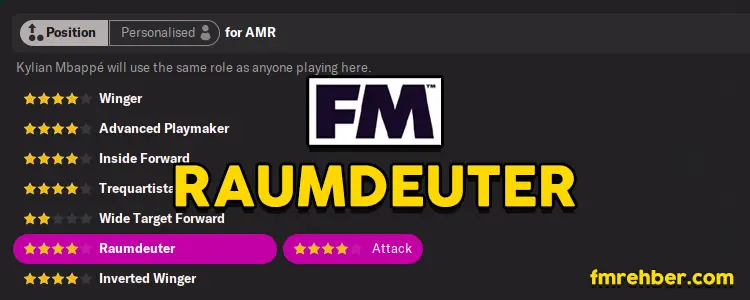 A good raumdeuter should have decent finishing and balance. But the most important attributes of raumdeuter are mental. Such as off the ball, anticipation, decisions, concentration, composure, and work-rate.
As you already know, older players in FM lack physical attributes but mentally wiser. That is why assigning an old player to raumdeuter role have little to no downsides.
Best FM player traits for raumdeuter:
Moves into channels.
Places shots.
Likes to round keeper.
Plays one-twos.
Dictates tempo.
Best FM22 Raumdeuter Players
Here is the list of best FM22 raumdeuters. I have also included wonderkid players who can train as raumdeuter to this list.
Thomas Müller: He is number one obviously.
Mohamed Salah: Second best raumdeuter of FM22.
Sadio Mane: Salah's team-mate, equally great.
Bernardo Silva: Man. City's right-wing player good at raumdeuter role.
Gabriel Jesus: Another Man. City player can be a good raumdeuter.
Moise Kean: 21 years old young talent can play at both sides.
Jude Bellingham: 17 years old wonderkid of Dortmund, who can train to be the next raumdeutar star.
Cole Palmer: 19 years old Man City wonderkid. Looks like Man City is not short on raumdeuters.
Armando Broja: Southampton's Albanian wonderkid.
Joe Gelhardt: 19 years old wonderkid of Leeds.