Let's review the most popular winger role of modern football. Inverted winger can be the key role of your FM tactic.
Good player traits for this role can be found below. I have also listed the FM 22 best inverted winger players for both sides of the pitch.
Other winger roles in FM:
FM inverted winger role definition:
The inverted winger aims to frequently cut inside into the attacking third to open up space for overlapping full-backs and to subsequently overload retreating defenders. The inverted winger works best when the player's strongest foot is opposite to the side of the pitch he's playing on.
With a support duty, the inverted winger will cut diagonally across the defence to play the ball through the middle while overloading defenders and defensive midfielders ahead of the penalty area.
With an attack duty, the inverted winger will run directly at the defence with the options of shooting, passing or crossing as he moves into the attacking third.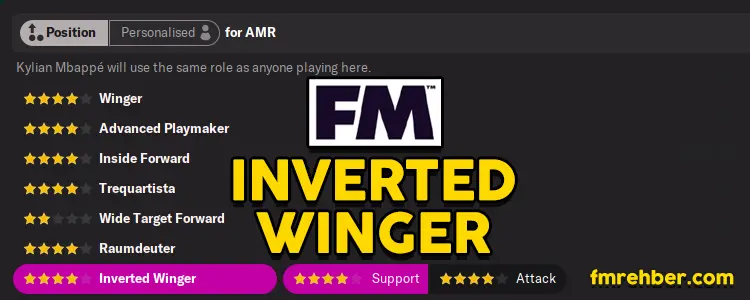 Dribbling, acceleration, agility, and off the ball are the most important attributes for an inverted winger. Because they must be able to cut inside from wings.
Even though it is an attacker role, finishing is not necessary. Instead of shooting, inverted wingers looks for assist possibilities. Therefore, at least decent amount of passing and vision are important.
Inverted winger FM player traits:
Tries tricks. (Attack duty.)
Cuts inside from both wings.
Runs with ball often.
Moves into channels.
Likes to try to beat offside trap.
Best FM 22 Inverted Wingers
Wonderkid and word class inverted winger players of FM22 are listed below. Important notice: They are extremely hard to sign.
Kylian Mbappe: Best inverted winger left. Correction, best winger and striker of any kind.
Mohamed Salah: Liverpool's Muslim superstar, right inverted winger.
Raheem Sterling: Top class inverted winger who can play at both sides of the pitch.
Phil Foden: Phil Foden other inverted winger of Man City.
Bernardo Silva: Third best inverted winger of Manchester City.
Jadon Sancho: 21 years old versatile winger of Manchester United.
Ansu Fati: Wonderkid of Barcelona.
Callum Hudson-Odoi: Chelsea's 20 years old wonderkid.
Bukayo Saka: Arsenal's wonderkid.
Rodrygo: Brazilian wonderkid of R. Madrid who can play at both sides.