Advanced playmaker role in FM can be assigned to both midfielder and attacking midfielder positions. It can also be assigned to the wide forwards, but I don't like the idea. Because I want my wingers to be fast dribbles, not playmakers.
Of course, not everyone has to agree with that. Anyway, scroll down to view my FM advanced playmaker guide, player trait recommendations, and best FM22 players.
FM rest of the AMC roles:
FM advanced playmaker guide:
The advanced playmaker can operate in the central midfield, attacking midfield or wide forward positions.
The advanced playmaker aims to drop into the holes between the opposition's midfield and defence, making himself available for his teammates' passes and aiming to turn defence into attack in an instant.
With a support duty, the advanced playmaker will stay in the hole and look to spray passes to support players and forwards.
With an attack duty, the advanced playmaker will look to run at the defensive line from deeper positions, aiming to craft out crossing or through ball opportunities as he moves into the final third.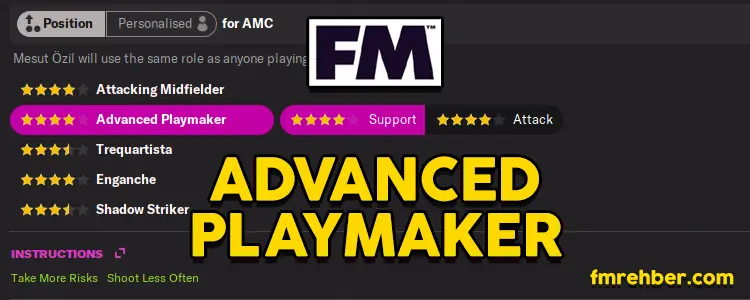 Obviously most important attributes for advanced playmaker are passing, vision, first touch, composure, and decisions. Because an advanced playmaker must send killer balls and score assists.
Physical attributes are not that important. Therefore, you can assign an older player for this role without any downsides.
Best player traits for advanced playmakers in FM:
Tries killer balls often.
Tries long range passes.
Play one-twos.
Refrains from taking long shots. (Low long shot attribute.)
Looks for pass rather than attempting to score. (Low finishing.)
FM22 Best Advanced Playmaker
Both top class and wonderkid advanced playmakers of FM 22 are listed below. Enjoy the top 10 shortlist:
Lionel Messi: Not only the best advanced playmaker but also the best player of the world.
Neymar: Most people might hate him. Still, no one can deny his talent.
Bernardo Silva: Man. City's Portuguese star with perfectionist personality.
Paulo Dybala: Elite Argentinian striker who can play both AMC and ST positions.
Phil Foden: Another star player of Man. City. Even though he is only 21 years old, many consider him one of the bests.
Pedri: 18 years old super-wonderkid of Barcelona.
Florian Wirtz: German wonderkid of Bayer 04. I have recently started a Bayer 04 career only because of him.
Gabri Veiga: 19 years old midfielder of Vigo. Cheap and effective.
Jamal Musiala: Second German superstar wonderkid of this list. But this time, he is from Bayern Munich.
Youssef Amyn: 17 years old promising youngster from 3. liga team FC Viktoria Köln.