Looking for update? Check out FM 22 ZaZ tactic download page. Blue Are you ready to get the best Football Manager 2021 tactic ever? On this page you can learn more about the FM 2021 ZaZ Blue tactic, including the download link. By the way you should know that the ZaZ Blue is an award winning tactic with the highest win rate.
FM 2021 343 352 TACTICS – Three Defender FM 21 Tactics
Have you heard of the FM arena yet? It is a tactic sharing website with high end AI. This AI tests each and every tactic uploaded by the players. FM arena tests each tactic with +1000 games to determine the best one. Guess which tactic managed to collect most points… Of course it is the FM 21 Zaz Blue tac.
This tactic uses the 4-1-3-2-0 formation, meaning no strikers. Instead of using traditional strikers, ZaZ Blue uses shadow strikers. Because FM 2021 match engine values shadows strikers more I guess. Also remember, you can use ZaZ Blue for both big and small clubs without any problem. Most of the time, you will win! Scroll down for ZaZ Blue 3.0 download link.
ZaZ Blue Tactic Download FM 2021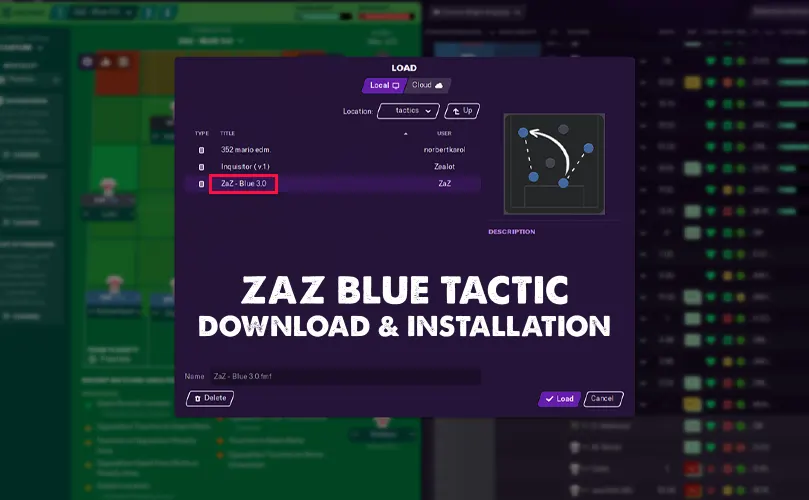 Are you ready to collect these sweet points and trophies? From this link you can download this legendary Football Manager tactic FM21 ZaZ Blue 3.0 with one click.
Once you downloaded it, simply copy and paste it to your tactics folder. Here, FM 2021 tactic installation folder:
Documents / Sports Interactive / Football Manager 2021 / tactics
After completing the tactic installation, simply start your game and enter the tactics screen. From the click import tactic and choose the ZaZ Blue. Done and done! Also make sure to have second and third back up tactics in case. You might need them on different scenarios on your career.
---
This article gave you the best FM21 tactic the ZaZ Blue. Plus the installation instructions. What else do you need? You are ready to go! Enjoy winning your matches in FM.
Thank you for reading and make sure to leave a nice comment below! I am hoping to see you guys soon, good luck on your manager career.